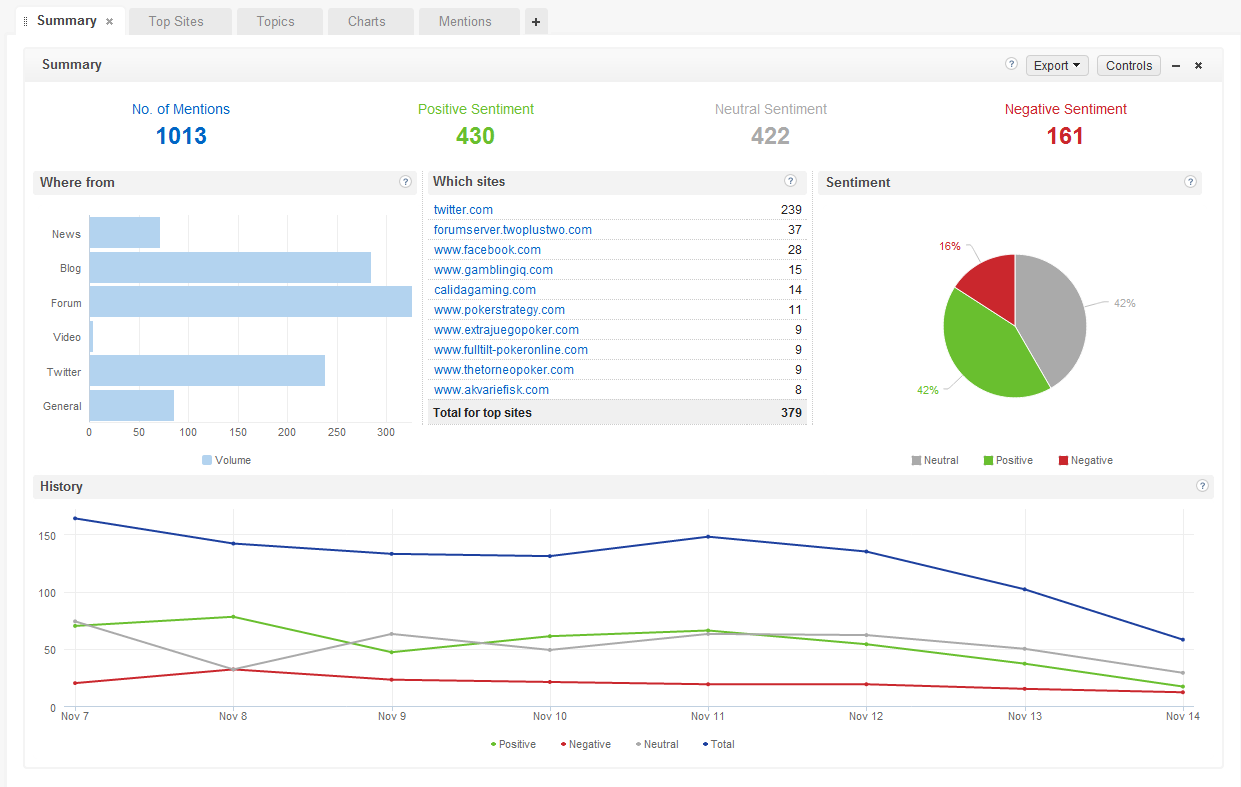 Not long ago, I mentioned the tools I have in my digital tool belt. Most of those were directly related to my personal productivity and organization. Now that I'm helping lead digital at DeMoss, what tools do we use as an agency to help our clients out with digital work? Here are three tools that I recommend.
Brandwatch is Social Listening for Agencies
Even if it's just something as simple as looking up terms in a Twitter search, social listening is a crucial element at both shaping key messages for a brand in addition to potentially getting ahead of a crisis. It's also a way to measure overall brand lift after a campaign has taken place.
When I first started at DeMoss we started using Radian 6. While it's a powerful tool, it is very expensive and doesn't translate well for an agency business model. If you have multiple clients, you have to set up (and pay for) every single profile. The dashboard wasn't clean and the tool felt cumbersome to use.
Enter Brandwatch. While it is slightly more expensive per month at the base rate, it's like it was built with agencies in mind. It's easy to set up several client dashboards simultaneously - and the dashboards are beautiful. The user experience is way more intuitive and I've noticed that I get far less spammy or duplicate mentions from Brandwatch's queries than I did from Radian 6. It's far easier (and quicker) to find the information you are looking for.
Brandwatch also translates well for team work. You can have unlimited seats and set permissions based on who is looking at your brand or campaign dashboards. This works great for real-time client reporting. As an example, you could set up your clients to have "view only" access and provide them a link to be able to view what is being said about their brand at any given time. Depending on your client and relationship with them, this may or may not be a good idea.
GroupHigh Streamlines Blogger Outreach
Blogger outreach is a laborious process. Short of outsourcing your efforts to a blog network, finding the right bloggers and determining their influence is a very time consuming task. Identifying, contacting, tracking and quantifying your influencer campaign takes a lot of hours - and eats away at your client's budget. GroupHigh makes this process significantly more efficient - helping your client's costs and making your work better.
The best way to describe GroupHigh is to refer to it as a CRM tool for influencers. It has a search functionality to narrow down bloggers by following and topic. The search is still manual and not that clean but way easier than using a Google search. You can then create lists for each campaign, track outreach stages and bcc all of your emails to keep an archive of all of your historical correspondence with influencers.
GroupHigh also includes a great monitoring and tracking capabilities. After you have reached out to everyone, you can monitor your list to see if your bloggers have posted about you. You can then drop those links into a tracker and create an aggregate view of the potential earned impressions your influencer campaign has garnered.
In short, GroupHigh makes influencer outreach easier.
Sprout Social Provides Cost-Effective Community Management
We do very little community management for clients. It's an area of service I honestly try to avoid when possible for client services. However, when we do community management, I tap Sprout Social. While it's not as robust as something like a Shoutlet, it gets the job done on scheduling posts, assigning responses to team members and creating one streamlined inbox for significantly less money. Sprout Social also provides very clean reporting should a client want a print out of performance quickly without wanting context or analysis behind the numbers (it happens).
We use a lot of other tools at DeMoss and do a variety of work. However, those are the three our digital team is in day in and day out for client-specific work.
Work at an agency? What do you use?