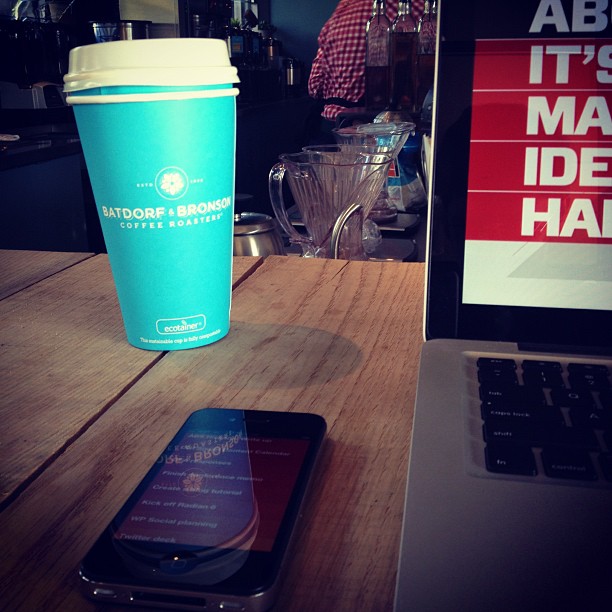 I do blog about work, life, productivity, social media etc a lot...but tools do I use myself? Below is a rundown of digital and physical tools that help me at work and at home.
Agenda
This is a clean, minimalistic style app that pulls in all of your calendars (Google, Exchange, iCal) into one spot. As far as I know, this is only available on iOS. I find this a lot easier to read than iCal or our work Exchange calendars on my computer. It's a good place to easily read what's going on for the whole week quickly and drill down into individual appointments as necessary. I keep every single appointment on here right now.
Evernote
This app is probably on just about anyone's productivity app list right now, so no surprise here. I had been taking notes via my Action Method notebook from Behance only and quit Evernote for a bit. Then my dog chewed up that notebook. Now, I use Evernote for just about everything, from keeping up with receipts, having folders for every single client I have even learned about at The DeMoss Group and clipping interesting research articles on the go. I've found their other apps like Clearly (Chrome extension) and Evernote food to be a lot of fun. The best thing about Evernote is the text recognition. I can still do handwritten notes or draw on my whiteboard in my office, take a picture of it and Evernote will recognize the text in a folder search. Pretty cool.
Clear To Do App
I have used Wunderlist, Evernote and even scrap notes with whatever paper is lying next to me at the time. Eventually I discovered Clear. This is the next best thing to having a scrap of paper to keep your to-do list on without worrying about accidentally throwing that paper away (unless you throw your phone away often). It's simple to keep a running list going. I keep all my "deliverable" tasks on there and other reminders as they approach to add on the fly. It's also not so feature heavy that I can't find what I have to do next. It's all there with the ability to easily and quickly prioritize tasks. There's a nice demo here.
My Whiteboard
This isn't an app...I'm literally talking about my whiteboard. Sure, there are mindmapping tools out there to brainstorm ideas. I could use Skitch in Evernote or something to map out ideas. There's something about mapping out a large plan on a board using different colored markers that really makes things click for me. I'm visual and if I can see all my ideas laid out at once, it makes my work life a lot easier. Plus, as I brainstorm, I'll snap photos of the board and file away into Evernote for later.
Hootsuite and Pulse (for news)
Still my favorite ways to keep up with what's going on in the world. Pulse's UX is second to none and Hootsuite's lists are fantastic. I was using Hootsuite's bookmarklet for auto-scheduling posts but have since moved away from that and adopted Buffer for sending messages. Hootsuite is more or less a personal listening tool now.
Coffee and a Coffee Mug Warmer
This isn't an office supply or an app. It's exactly what it sounds like - it keeps the coffee in my mug warm. Which in turn keeps coffee in my system more efficiently. Like a lot of people, I love to work with a hot cup of coffee in my hand. Something about it tricks my brain into productivity. It's all in my head I know but I'll use any mental trick I can. Plus, the mug warmer makes my office smell like coffee (a nice touch).
What Am I Leaving Out? What Should I Try?
I have my go-to tools right now but am open to try new things. What do you use on a day-to-day basis for work? How do you keep everything together?